Sixteen Americans
Museum of Modern Art
New York, NY
December 16, 1959–February 14, 1960
Artists in the exhibition

Jay DeFeo
Wally Hedrick
James Jarvaise
Jasper Johns
Ellsworth Kelly
Alfred Leslie
Landés Lewitin
Richard Lytle
Robert Mallary
Louise Nevelson
Robert Rauschenberg
Julius Schmidt
Richard Stankiewicz
Frank Stella
Albert Urban
Jack Youngerman
Artworks by Jay DeFeo in the exhibition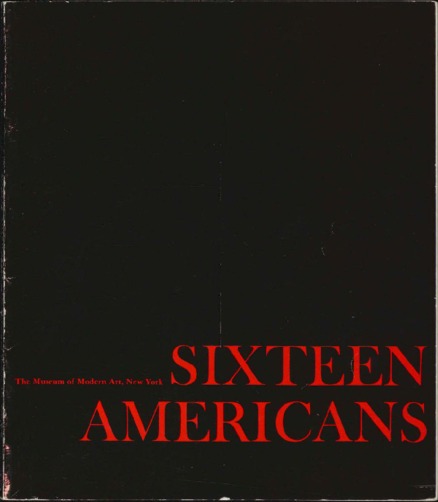 Edited by Dorothy C. Miller, with statements by the artists and others.
Includes artists' biographies and exhibition checklist.
© 1959 The Museum of Modern Art, New York
From the foreword by Dorothy C. Miller:
Sixteen Americans, shown in 1959–60, is another in a series of American group exhibitions which have been presented periodically at the Museum of Modern Art ever since its founding thirty years ago. The work of 140 American artists has been brought before over half a million Museum visitors through these exhibitions, all of which have followed a particular pattern. Preferring not to attempt comprehensive periodic surveys of American art as a whole, a task already undertaken by many other institutions, the Museum devised a different formula for its American group exhibitions: a small number of artists, to be represented by several works each. This pattern may be said to provide, to greater or lesser degree, a series of small one-man shows within the framework of a large exhibition.
Differences rather than similarities in point of view, as well as in age, experience and fame, have been emphasized in these exhibitions at the Museum (the one exception was that held in 1943 devoted to a specific kind of painting—sharp-focus realism). Sixteen Americans continues the pattern by bringing together distinct and widely varying personalities, contrasting these personalities sharply rather than attempting to unite them within any given movement or trend. These sixteen are presented simply as individuals and Americans.