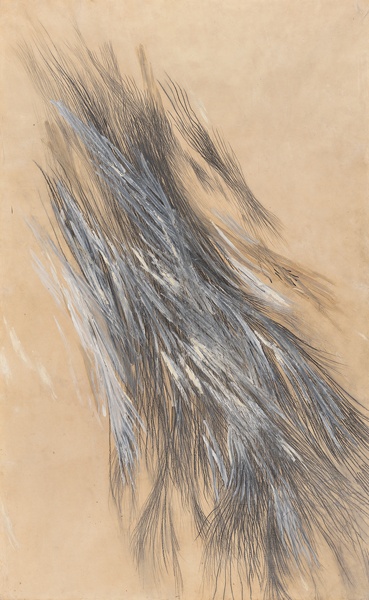 Jay DeFeo: A Symposium
The Courtauld Institute of Art
Friday, May 28, 2021
8:30 – 11:30 am PDT
11:30 am  – 2:30 pm EDT
4:30 – 7:30 pm BST
Registration is free, but required.
Organized by
Dr. Jo Applin, Professor, Head of History of Art Department
Dr. Pia Gottschaller, Senior Lecturer, Department of Conservation
From the 1950s, the avant-garde artist Jay DeFeo (1929-1989) was a member of a vibrant bohemian community of artists, musicians, poets and writers based in San Francisco. Best known today for her magisterial painting titled The Rose (1958-1966), which the artist described as "a marriage between painting and sculpture," over the course of her long career DeFeo experimented widely and intensely with a range of unorthodox materials, exploring the parameters and expansive limits of painting, sculpture, drawing, collage, photocopies and photography.
This conference brings together a group of scholars based in the United States, Europe, and the UK, to discuss the work of DeFeo, shedding light on aspects of her work from a range of new perspectives.
Speakers include:
Lucy Bradnock, Associate Professor, University of Nottingham
"Jay DeFeo's Bodies: Painting as a Muscular Principle"
Catherine Spencer, Lecturer, University of St. Andrews
"Abstraction in Pieces"
Pia Gottschaller, Senior Lecturer, The Courtauld and Joy Mazurek, Assistant Scientist, Getty Conservation Institute
"The Dialectics of Painting"
Judith Delfiner, Associate Professor of Contemporary Art History, Paris Nanterre University
"Jay DeFeo: Xerox Images"
Suzanne Hudson, Associate Professor of Art History and Fine Arts, University of Southern California
"Encore"
Corey Keller, Curator of Photography and Acting Department Head, Photography, San Francisco Museum of Modern Art
"Sidestepping the Image Directly: The Growth of Jay DeFeo's Cabbage Rose"
Supported by The Jay DeFeo Foundation